IPL Facial Rejuvenation
Skin Perfecting Treatment for Ageing Skin
PRICE
*Individual £75.00 - *Course of 3 £200
Constant exposure to the weather can damage the skin and cause common skin imperfections such as redness, freckles, age spots and uneven skin texture. 
IPL Rejuvenation Treatments works to rejuvenate your skin and visibly reduce skin imperfections. 
When you apply the heat energy of IPL to the skin it is absorbed by unwanted skin pigmentations, causing the pigment to shatter and reduce the color, its improved redness and small blood vessels. IPL stimulates new collagen production, firms the skin and reduces skin pore size, resulting in a more perfect looking skin.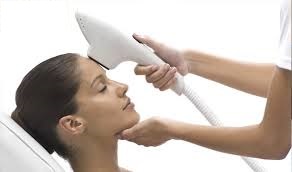 Good for
The treatment can give outstanding results on the following skin concerns:
Improving fine lines and wrinkles

Reducing redness in the skin

Reducing melasma/brown sunspots

Improving general skin discoloration

Improving dull, lifeless skin

Reducing open pores acne scarring

Improving skin luminosity
Treatable Areas
Face

Neck

Décolleté

Hands
Treatment description
A cool conducting gel is applied to the area to be treated. The treatment is delivered through a sapphire tipped oblong block.  Some patients liken the experience to that of a light elastic band 'snap'. Immediately after treatment, the skin is cooled if it feels warm. An SPF 50 lotion is applied. Sun exposure must be avoided for 3 days after treatment
IS THE TREATMENT PAINFUL?
You will experience a sting, like the light snapping of a rubber band on the skin, each time the IPL is applied.
Skin redness, tenderness and swelling 24 hours to one-week post-treatment. Hyper/Hypo pigmentation temporary. Blisters and burns (rare).