3D Pro Facial Rejuvenation
Anti-Ageing and Skin Perfecting
PROCEDURE TIME
60-75 Mins
NO. OF TREATMENTS
1-3 Treatment
PRICE
*Individual £95 - *Course of 3 £260
We have combined three results driven technologies to give advanced treatment effects for anyone concerned with the visible signs of ageing, or anyone wanting perfect looking skin at any age. This facial is designed to improve the appearance of fine lines, wrinkles, age spots, dull lifeless skin, slackened skin, reduction in redness and thread veins and effective reduction of melasma and brown marks. It can be used as a pick me up before a special occasion or as a regular treatment to maintain healthy, clear, younger looking skin at any age.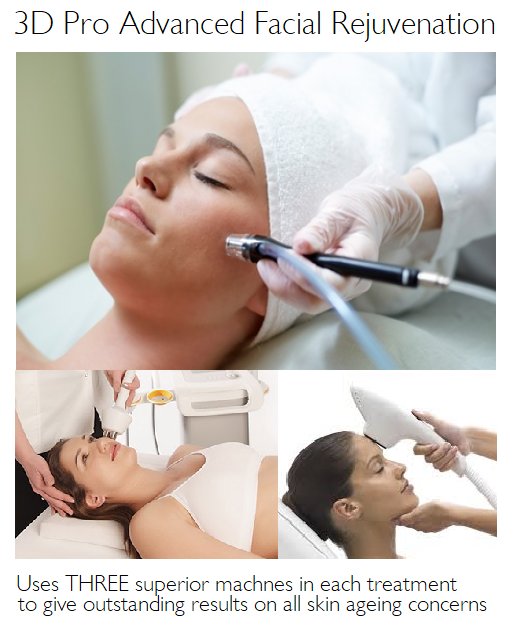 Good for
The treatment can give outstanding results on the following skin concerns:
Reducing skin redness 

Reducing thread veins

Improving melasma and sunspots

Improving skin luminosity

Fine lines and wrinkles 

Skin tightening and firming

Improving skin laxity 

Reducing pigmentation 

Reducing pore size

Reducing scarring
Treatable Areas
Face

Neck

Décolleté

Hands
Treatment description
Microdermabrasion- Tiny crystals are used to gently exfoliate the surface of your skin to remove the dead skin cells, while a vacuum sucks the removed skin cells and debris away. Thorough exfoliation of the dead skin cells encourages the production of new cells in the basal layers of the skin.
Regen RF- Energy penetrates the skin layers to selectively heat the skin tissue and Collagen fibers. The local heating causes an immediate contraction of the collagen fibers and accelerates the production of new Collagen and Elastin fibers, giving immediate and long-lasting skin improvements.
IPL- (Intense pulsed light) uses light-based energy to improve the appearance of the skin.
A thin layer of gel is applied to the skin and a smooth, glass surface of the IPL treatment head is applied to the skin, delivering precise pulses of light to the area being treated. It selectively heats and damages specific targets in the skin without disrupting the surface. 
SPF 50 is recommended to be worn daily.
Slight skin redness for up to 12 hrs.
IS THE TREATMENT PAINFUL?
Skin redness, slight skin swelling in treated area is usual. Bruising and blistering are rare. Scarring, although possible is very rare. Sun exposure must be avoided before and after treatment. SPF 50 Moisturiser is advices