HIFU Skin Firming
Visibly Lifts Contours of Face & Neck for up to TWO Years!
PROCEDURE TIME
45 - 70 mins
NO. OF TREATMENTS
Individual Treatment every 12-24 months
A single session of HIFU Face and Neck Lifting treatment will help to achieve visibly tighter, firmer lifted skin with results lasting up to two years.  It will also create new collagen, helping your skin maintain its youthful glow. The treatment individually targets brow, jowl, jawline, and neck lifting, as well as overall skin tightening and rejuvenation. You will see a noticeable improvement in facial contouring, fine lines, and wrinkles, with long-lasting results. HIFU is unique in its ability to reach tissues that other anti-aging treatments cannot. This makes HIFU a very popular alternative to surgery or more invasive treatments such as thread lifts or injectable toxins and fillers.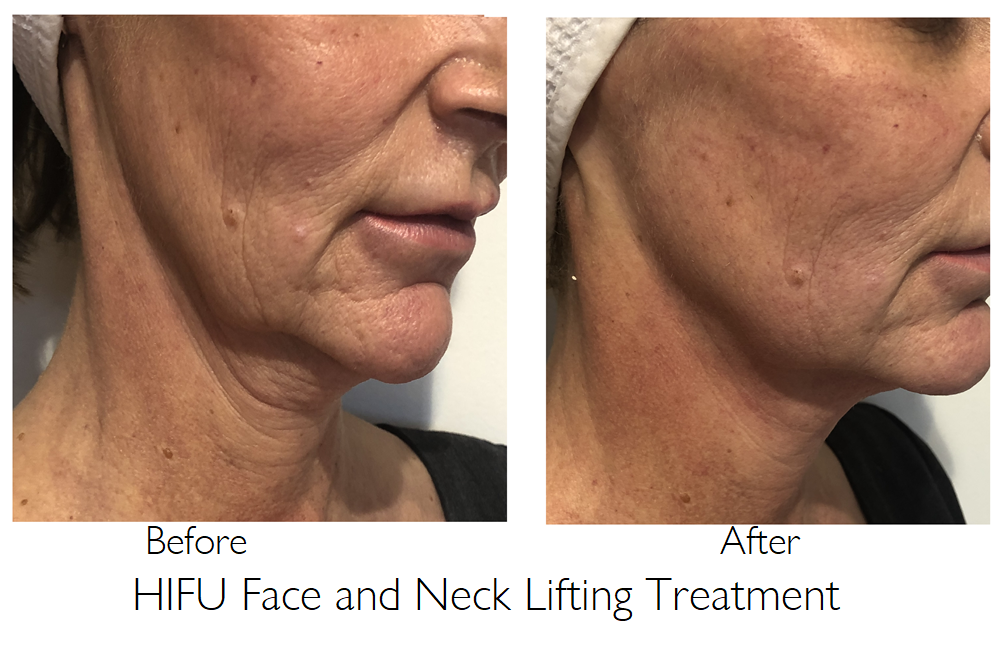 Good for:
The treatment can give outstanding results on the following skin concerns:
Non-surgical face lifting of the whole face and neck area

Immediate and long-lasting results

Wrinkle reduction

Mid face lifting

Lifting frown and forehead lines

Lifting of the cheeks and nasolabial folds

Increasing collagen production

Improving skin luminosity

Overall skin tightening and rejuvenation

No downtime
Treatable Areas:
Forehead

Eye Area

Jowls

Marionette Lines

Tightening Jaw Line

Neck

Décolleté
Treatment description
HIFU uses focused ultrasound energy to target the deeper skin layers known as SMAS layer and deep dermis skin structures. 
This energy causes the tissue to heat up rapidly. Once the cells in the targeted area reach a certain temperature, it stimulates the cells to produce more collagen. The increase in collagen results in tighter, firmer skin with fewer wrinkles. Since the ultrasound beams are focused on a specific tissue site below the skin's surface, there's no damage to the upper layers of the skin and adjacent tissue. Over the next four months, a gradual lifting effect can be achieved and a healthy stimulation of collagen and elastin for a natural, noticeable effect on the outside.  
*Results may vary from person to person
There is normally no downtime or recovery time needed. Most people return to normal activities right away.
IS THE TREATMENT PAINFUL?
Most people do not report pain. There can be slight aching over bony areas or a warm sensation in the skin during treatment.
Lifting and firming will take place for approximately 3 months post treatment as collagen is renewed and replaced with new, stronger collagen. However, approximately 20% of results can be seen with immediate effect after HIFU. This collagen building process continues, and improvements can appear for up to 6 months.
Most people find results last over 1 year, although yearly touch-up treatments are recommended to stay ahead of the ageing process
Slight redness or swelling. Skin sensitivity to touch and light tingling sensation. In very rare cases, bruising and temporary local numbness may occur. These side effects disappear.